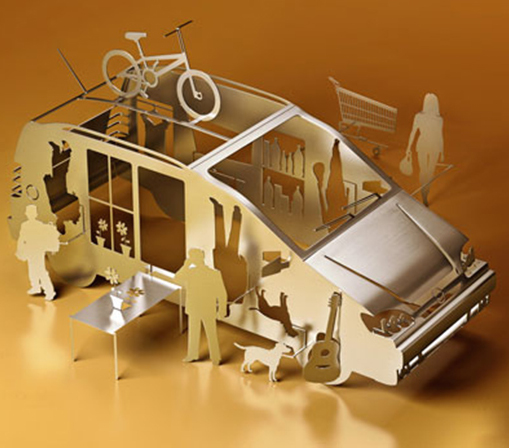 Take cardboard for example. Or paper. Or wood, clay, brick, metal. Doesn't matter. Anything can be a material. Sand. Water. Wind.
A designer is an artist who goes beyond the canvas. Sculptor with clouds in his hands. It just makes the world more beautiful. And he always thinks it's easy! Just like breathing. And people admire - "how great it turned out!" And it's just the wind prompted. The water just gurgled the idea. This is such a world - a cool world, and we live in it.
And we try to make it better. A Tibetan monk, for example, can thoughtfully sweep a yard. Watching the flight of each leaf under the broom, and realizing the harmony and greatness of the world. This is zen. And he's a designer. A blacksmith creates a saber from a rough strip of metal. Or Rose. Or a hoe for the garden. He thinks about beauty, about the usefulness of a thing, about how best to do this work. Is he a metal designer? Undoubtedly!
And the designer, in order to explain to the master the essence of his desire, to tell what exactly we want to express in stone or metal, isn't he obliged to understand the soul of the master's work, to stand at the anvil, computer or machine himself?
Of course, you want your work to remain for centuries and please people for a long time. But it is not always possible to work with marble and metal. Therefore, the sand is in the right place. for example, a well-filled hole on the road in time is even nothing! And since now is the time of fast technologies, then the figure will go to the line. A computer is a very useful tool!
This is how we live, this is how we work, this is how we treat life. We are blacksmiths, and masons, and sculptors, and masters of wood and wicker. We can and can do a lot, but we want to be able to do even more. Come visit us and we will find something to interest you!
What else are we doing?
Creation of sites based on well-known and free systems. We suggest starting small, then developing your project as the company develops. Need a catalog? Let's add. Need to add a store? The possibility of this is laid from the first steps. The main thing is that your project works for you and not you for it. To ensure that costs do not exceed profits.
The right idea quickly stands out on the page. This can be achieved in various ways. And we know how. You can go the simplest way - to give our goods into the hands of a beautiful girl. And it works. This is what 99% of advertisers do. But what to do if all advertising pages are full of girls? We know what to do.
We accompany the layout until the moment we receive your order. Knowing all the subtleties of printing processes, we will tell you how and in which of the printing houses your work will be done better, where it is cheaper, and where it is better not to call at all. We are present during printing, we communicate with postpress masters. We don't have bad prints.
Team
JarosStar

Designer and artist
I do what I like. And I get paid for it.

Albina

Creative designer
I work with nature. Like clay. The main thing in harmony

Max

Smith of Happiness
It goes well on the right. But I won't let you down

Pavlo

Application Development
Let's see what you have there. And I'll turn it into money