Since a lot of time has passed, and now I can tell you about the episode. Funny happened.
It was in Gustavsvik. Several one and two-storey houses on the shore, we were given a room in one of them. In general, everything is fine, if not one but - in our room Wi-Fi disappeared. The signal level before the house, behind them - normal, and in the house no.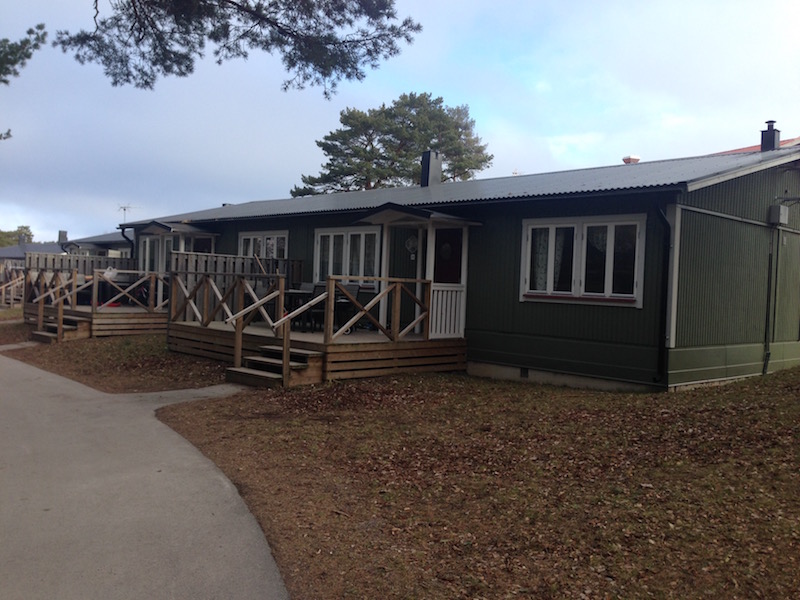 Well, we're in Sweden, service and support staff must be on top, go to the reception, telling you about the problem.
Oh, yes, they understand and know everything will be done! When? Well this week. Or beginning of next. Yes! Will be done!
Well, I waiting. In the meantime, I go to with my laptop to areas with available good Wi-Fi reception, but the winter, and especially do not sit on the street. I go to the reception, there are tables, I can work theare. Noisy course, children screaming, teenage araby with music and games, but it is also possible to soothe.
A week passed - no one itches. I ask - what's the problem?
— Oh, it is necessary to pay the company the arrival of difficult!
Meanwhile, moving with my laptop at the territory in search of better reception, I had made up for themselves a network coverage map and realized what was happening.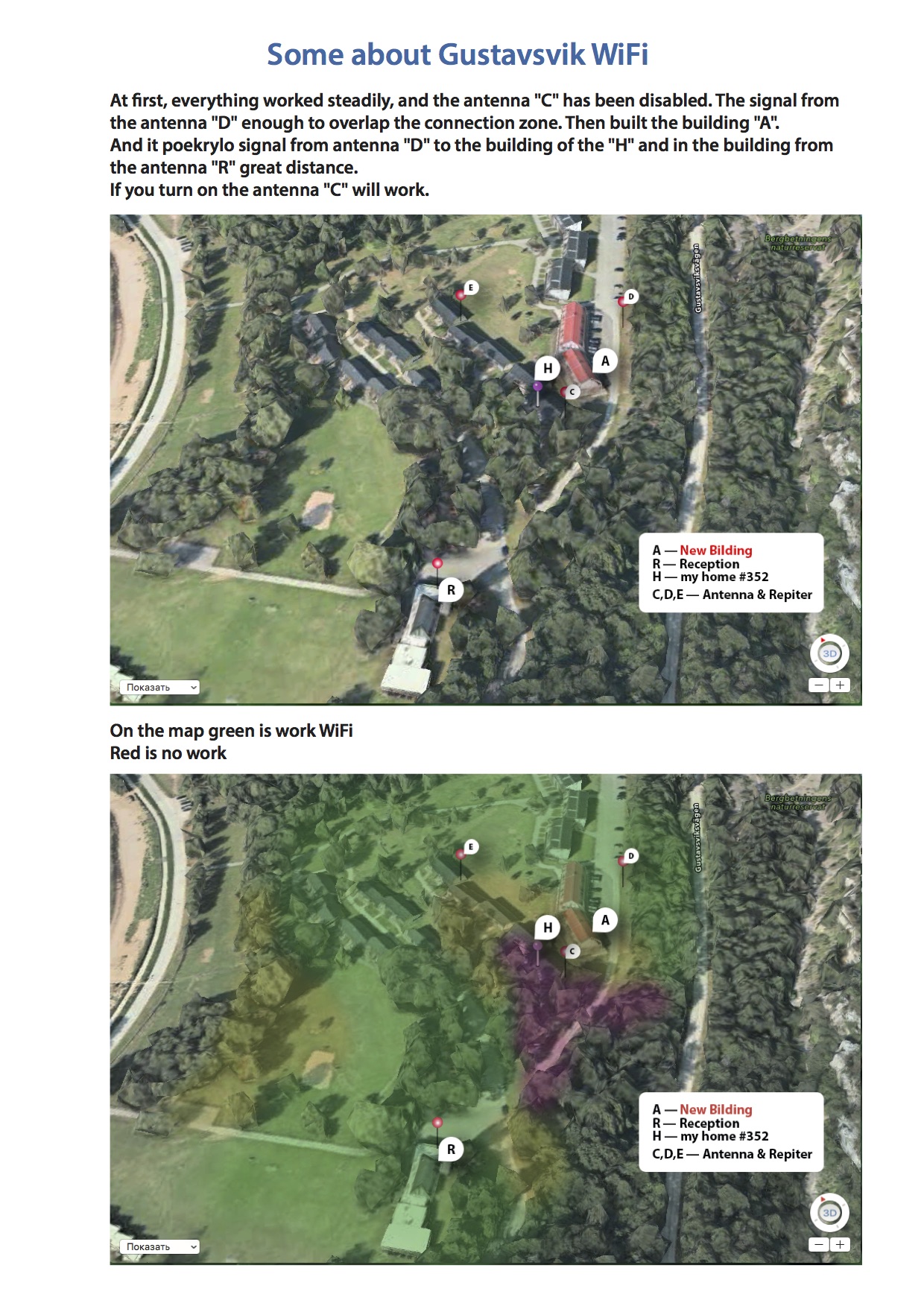 During in the construction of the main part of the camp was really good Wi-Fi coverage. Good and reliable equipment, Antennas Wi-Fi routers on special masts, wires in boxes, not as we are often on the nozzle. But later they had added a group of two-storey buildings. And there was a dead zone in which just my room and turned. That is - just reconfigure, and turn the antenna - and all. Not difficult.
Actually my, the user point of view, no further pay anything it should not. Customer Service is? Service should operate. Does not work? Kindly adjust!
But who will understand Swedes here, why they do not want to work?
I offer to help. Let me do it.
— Oh, no, you can not in any way, you need a certified specialist!
So I'll have, and this!
— Where's your certificate? Oh, no, you can not in any way!
And who will do?
— We wait!
Well, I think I will go the other way, I will find these professionals, try to get them to do what they are required.
I found this site recreation, thought, will write a complaint there. Oh, here a dozen complaints! It lasts two years ... Yes, in no hurry with the service. I write it with my application maps and diagrams and descriptions on how to solve the problem.

I found someone has positioned itself as a provider and supplier of these services in the area.
There is such a firm, three students tried to build this business. Well, if they figured out and arranged the assembly, well done! I am looking for them ... The site is disconnected, strange, but these girls there, looking. O, they simply changed the interests! Girls gave birth to a doll, and has been discussed for knitting socks for babies! Well, the word "socks" can be seen, and so, why not? I write to them asking for help and "with the application of my maps and charts." To no avail.
Then I came across an article on the Internet that it is deprivation can be considered as an infringement of civil rights, in both!
Well written and the Ombudsman about this and "my application with maps and charts." To no avail.
And what to do? Everything understand the problem, everything smiling, but I think these smiles looking like mockery.
Well, by hook or by crook!
In the evening, after the departure of all the administration remotely I go to the server at the reception.
And then, of course, I - admin, and my server. And who is there next, who defines a channel? And you come here!
Nothing particularly complicated, Windows Server 2005 and at security is not particularly, by default all. And thanks!
Well, a little twisted antenna. Hardly,)))
In general, the so - two days no one knew anything. Well, a little more slowly they began to open the page, but just a little.
During this time I downloaded the five seasons of "Stargate".
Then bustling, ran, because simply download movies I was not interested, I was need a reaction.
I chopped off all of them.
And went over.
— What is the problem that the fuss? Oh, no internet? What are you talking about?
— But I'd offer to help? Oh, you have a specialist? And where is he? Here he is? And how's it going?
— Well it does not work? What are you talking about?
In short, I smiled sufficient. And returned everything as it was, lost their tails and gone. They understood that if they had it and why that had this attack, I do not know.
I had my Wi-Fi and it is well!