The first asylum seekers have moved into Soludden: "Here we want to create a future"
Article is not mine but about me, and therefore it is here as it is in original. Here I copied it for those of my friends, for whom the original is not available. The original article in Swedishhere.
Yaroslav and Albina Staroselska from Kiev in Ukraine is one of the first to have moved into Soludden's asylum accommodation.
Read also:
Forced to lay off the staff
- Härnösand seems like a nice city, says Yaroslav Staroselsky from Ukraine, who invites you to a cup of tea in his small newly renovated one-room apartment with kitchenette and bunk bed.
He left Kiev in January when he was called up for military service in the civil war.
Together with his wife Aldina, they made their way to Greece.
- We left everything. Our grown children with families, the pets and our house, says Yarolslav.
He shows his private family photos on the computer. Proudly points to a Youtube clip of Aldina, who belongs to the world elite in gymnastics.
But the chances that the couple will be allowed to stay in Sweden are slim. An announcement from the Migration Agency should come in two weeks.
When the Migration Agency made the decision this summer to liquidate the temporary asylum residents, it affected the Staroselsky couple because their accommodation in Visby was to be liquidated.
Since two weeks ago, they have been living on the third floor in the newly renovated old nursing home in Härnösand.
Albina has cycled to Willys to shop. Yaroslav shows his bike, an old crown bike from the defense.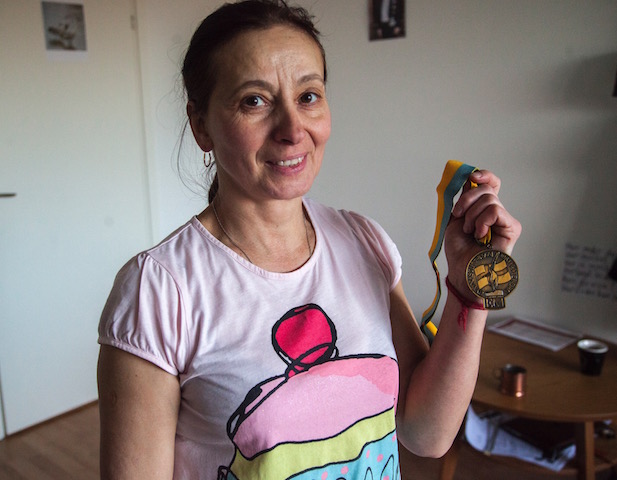 Yaroslav tells us that he wants most of all to get started with his IT company. In Kiev he worked with web design.
- Now I visit the Tax Agency daily to fill in forms. As long as I don't have a social security number, I can't open a bank account. It's frustrating that I can't work. Has customers around the world and could start working immediately, he says.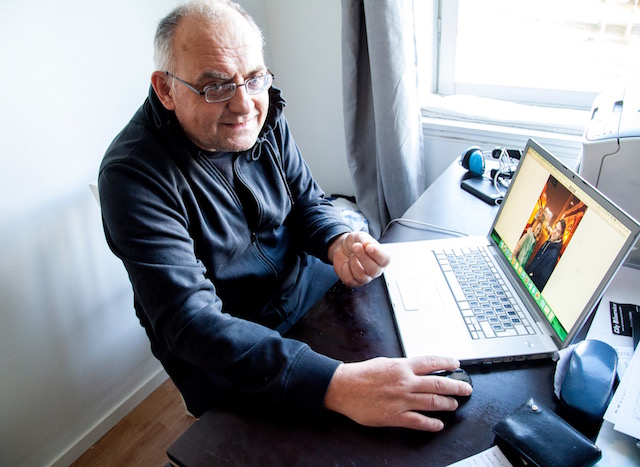 Albina was one of the Soviet Union's foremost gymnasts. She is looking for the bronze medal from the Euro Championships in Gothenburg, 1982. Aldina also has a background as a sports coach.
Read also: Paid almost a million in rent
On Monday, the final inspection of Soludden was carried out. There is place for 430 asylum seekers, divided into 76 apartments.
- We have booked ten apartments for families staying in Härnösand who have special needs. Otherwise, the asylum seekers come from all over the country, says Marlene Westberg, head of unit at the Swedish Migration Agency.
The 76 newly renovated apartments are ready for moving into the new asylum accommodation Soludden in Härnösand. The first families have started to arrive.
Ola Thelberg
Next to Soludden is the asylum accommodation in the old prison. There is a request from volunteers and asylum seekers that they can move to Soludden. But the message is no.
- Many have reacted but unfortunately we cannot do anything about it. We are stuck in an agreement and as far as the old prison is concerned, it runs until May next year, says Marlene Westberg.
Soludden, which was previously a nursing home, has been renovated for approximately SEK 35 million by the property owner Caspien Fastigheter. The municipality has a lease agreement with them that extends over five years.
The Swedish Migration Agency, in turn, has signed a subcontract with the municipality with a three-month notice period. It is a unique agreement, the only one in the country.
- We will fill all the places, says Marlena Westeberg.
- We pay full rent as fullycovers the municipality's rental costs from the first of November. There is also staff from the Swedish Migration Agency on site for a few hours a week. Otherwise, they take care of themselves. Among other things, they arrange their own food. says Marlene Westberg.
Staroselsky from Ukraine hopes they can stay.
- Härnösand seems to be a nice town. If we are refused, we will apply for asylum in Russia, but most of all we want to go to England because we know the language fairly well, says Yaroslav Staroselsky.
Yaroslav Staroselsky shows private pictures on his computer. - We cannot return to Ukraine where we risk our lives, he says.
Background
It was in the middle of the big wave of migration last year that the municipality of Härnösand presented the plans for a municipal asylum accommodation. A proposal that was received positively by the Swedish Migration Agency. It would be the country's finest asylum accommodation.
The municipality signed a five-year lease with Caspien properties, which owns the old nursing home in Härnösand, with room for 450 asylum seekers and starting on May 1.
But the renovations that were required caused the completion to be greatly delayed. The premises were only completed at the turn of November/December.
In 2008, the Swedish Migration Agency decided to dismantle the so-called ABT accommodation, which stands for temporary asylum accommodation. It was one that the municipality of Härnösand would establish in Härnösand.
The municipality was forced to lay off the staff at Soludden. Nine integration pedagogues and an operations manager were hired last spring for one year. After MBL negotiations, they have received notice that the employment ends on December 16.
The Migration Agency rents the premises from Härnösand municipality, which in turn rents from the property owner Caspien fastigheter. The agreement is valid for five years, the Swedish Migration Agency in turn has a three-month notice period.